PODCASTS OF ALL PAST SHOWS AVAILABLE BELOW
Raza World Visions is a Latinx public affairs and cultural arts radio show on KCSB 91.9 FM in Santa Barbara. The show is hosted by DJ El Profe Urbano Montez, with news and commentary by DJ Mercy Brown, and airs on Saturdays 10-11 p.m. during the "safe harbor" hour that allows for unexpurgated programming. The show explores Latinx life, culture, and politics in local and global contexts. The DJs and guests offer honest assessments—and continual reassessments—of how power and counter-power really operate in Latinx communities vis-à-vis the world at large. Content alternates between Thematic, Music, and Featured Artist shows.
Raza World Visions features interviews with activists, academics, students, and laypeople from all walks of life throughout the barrios, favelas, and banlieues of the world. The show also has the most awesome Raza playlist you'll find anywhere because it includes a little from everywhere! We welcome listener feedback and insights on Raza life, culture, and politics and can be contacted at RazaWorldVisionsUCSB@gmail.com.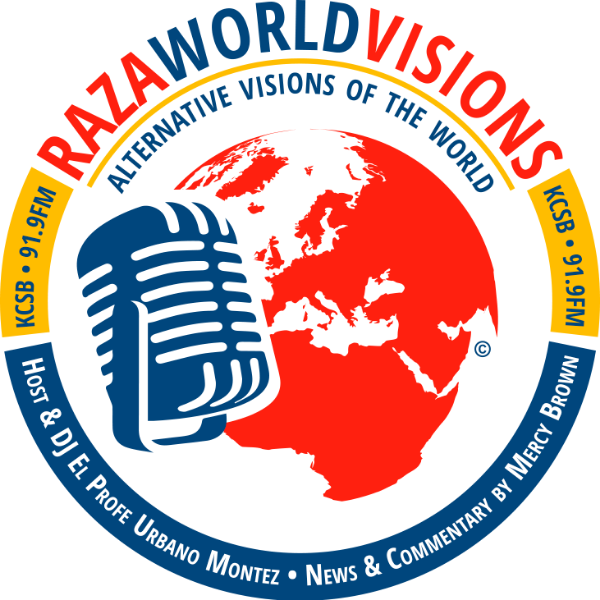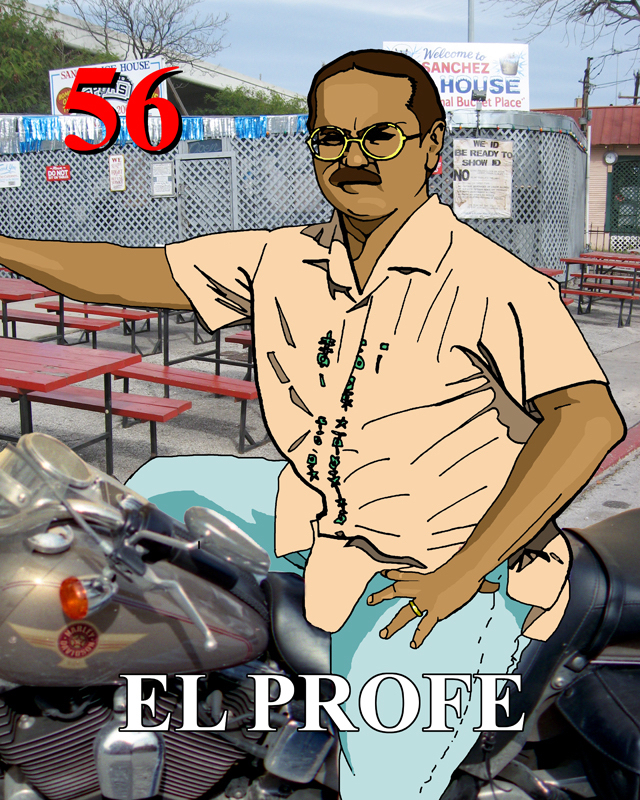 DJ and Host El Profe Urbano Montez es un bato del barrio Magnolia in Houston, Tejas, now working as an educator in Califas. His style is TexMex polka meets punk with lots of world riffs thrown in, mostly from Latin America, and a Harley Fatboy rumbling 'cause he's always on the run.
DJ Mercy Brown is a Goth Chicanx from the San Fernando Valley with her own vampire vibe radio show—The Hotel Bella Muerte (at midnight of course until 1:00 a.m.). She provides news and commentary through weekly Matutinos, or morning news briefings from the Cuban Revolutionary practice of recounting important events and struggles in world revolutionary history.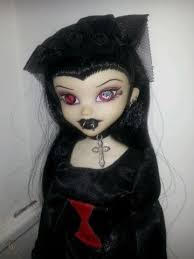 LISTEN TO RAZA WORLD VISIONS!
Select any show below, or use filter to view show options by category: Thematic, Music, or Featured Artist. Radio shows can be dowloaded by either right clicking anywhere on the audio player and then selecting the "save audio" option. Or, if you're using Chrome you can just click on the 3 vertical dots and then select the "download" option. (Please note that If you play a radio show and then navigate away from this page the sound will shut down. So, just open a new web page so you can keep listening to Raza World Visions while you surf!)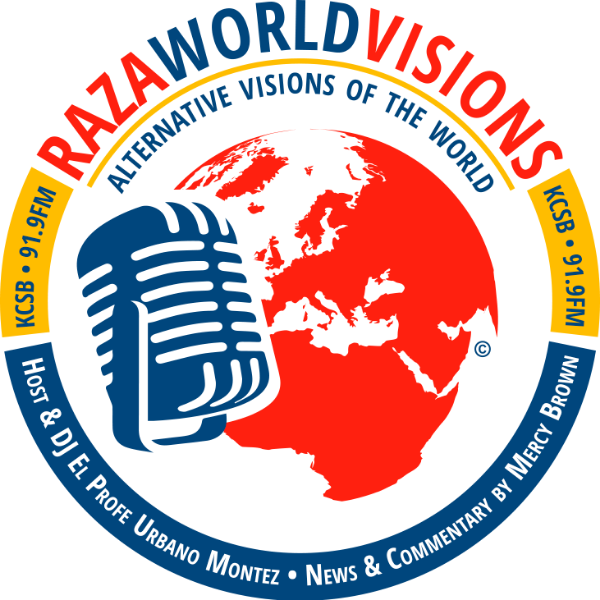 Music Show
¡SOLIDARIDAD PARA SIEMPRE!
Specially-Curated Strike Mixtape
Saturday, November 26, 2022
Raza World Visions radio show presents a specially-curated strike mixtape in solidarity with the 48,000 Academic Student Workers on strike throughout the UC System's ten campuses. This show follows the three-part series that featured union workers discussing the current strike and preceding 2020-2021 Cost of Living Allowance (COLA) wildcat strike. Drawing inspiration from intersecting unionists, this show features pro-union country music by Dolly Parton, Kenny Chesney, and George Straight; various Latinx genres by Las Cafeteras, Teatro Campesino, Joan Baez, and Los Tigres del Norte; rock by Billy Bragg and Rage Against the Machine; ballads by Tracey Chapman; Hip Hop by Michael Rousse; and L'Internationale sung in Spanish and Portuguese by workers of la Confederación Latinoamericana y del Caribe de Trabajadores Estatales.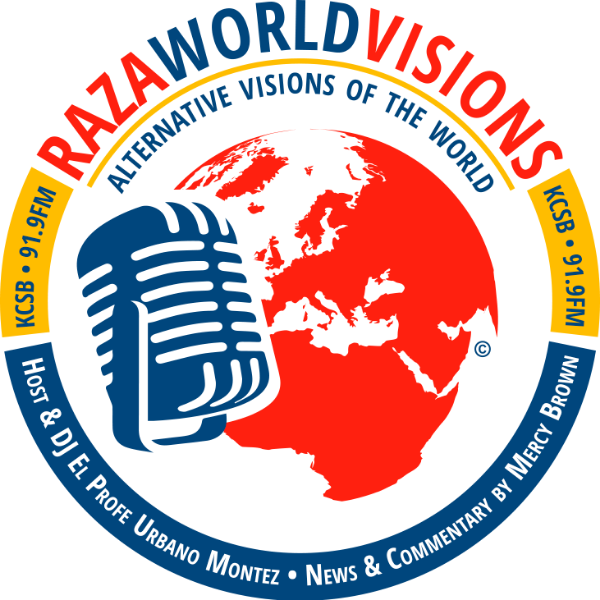 Thematic Show
¡SOLIDARIDAD! Pt. 3
Special Feature on Student Union Negotiations, Pt 3 of 3 Featuring UCSC Graduate Student & COLA Wildcat Striker Carlos Cruz
Saturday, November 19, 2022
Raza World Visions radio show joins the picket line in support of striking student unions! Following the unprecedented strike by over 48,000 academic workers throughout the University of California System's ten campuses, Raza World Visions continues its three-part series on the strike's causes, demands, and precursors. This third show focuses on UCSC graduate student Carlos Cruz, a 2020-2021 Cost of Living Allowance (COLA) wildcat striker who helped expand the strike outward towards a broad-based, multi-dimensional mass movement. He breaks it down alongside discussion of the persecution he endured. Musical interludes include Marcel Cartier, Ozomatli, José de Molina, and workers of la Confederación Latinoamericana y del Caribe de Trabajadores Estatales.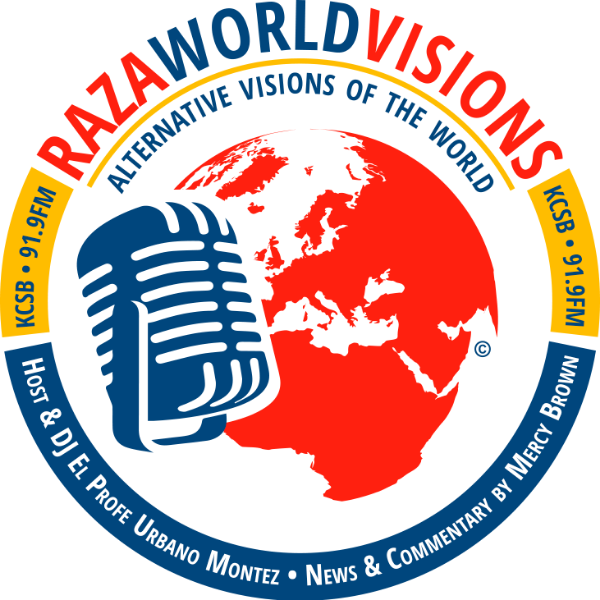 Thematic Show
¡SOLIDARIDAD! Pt. 2
Special Feature on Student Union Negotiations, Pt 2 of 3 Featuring UCSB Graduate Student & COLA Wildcat Striker Emily Fox
Saturday, November 12, 2022
Raza World Visions radio show joins the picket line in support of striking student unions! Following the unprecedented vote by 98% of University of California UAW Academic Student Union members—that's 36,558 workers!—to go on strike if contract negotiations with the UC System fail, this second of three shows on student unions is devoted to the Cost of Living Allowance (COLA) Strike in 2020-2021. While cut short by the COVID pandemic, the COLA wildcat strike represents a revolutionary turn in the student union movement. UCSB Sociology graduate student Emily Fox was involved in the UCSB COLA strike from the beginning, and provides personal reflections and insights on COLA's lasting impact. Musical interludes include Billy Bragg, Natalie Douglas, Las Cafeteras, and Bobbie McGee.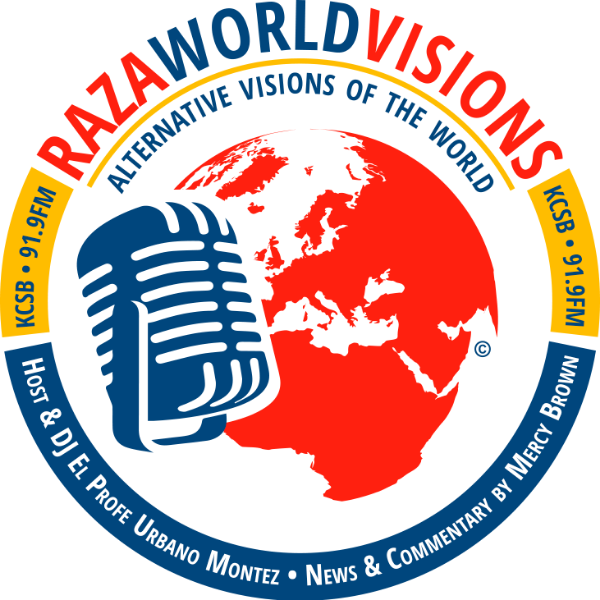 Thematic Show
¡SOLIDARIDAD!
Special Feature on Student Union Negotiations, Pt 1 of 3 Featuring Doctoral Students Janna Haider & Somak Mukherjee
Saturday, November 5, 2022
Raza World Visions radio show prepares to join the picket line in support of student unions! As negotiations trudge on, student unions have voted and are preparing to strike for dignity, justice, fair labor conditions, and livable wages. United Auto Workers Union member and negotiator Janna Haider and international student and union member Somak Mukherjee break it all down. As we listen and learn about lingering unresolved grievances such as inadequate pay and unfair working conditions for student workers, fellow travelers and allies Michael Rouse, Teatro Campesino, Tracy Chapman, and Las Cafeteras remind them and us that they are not alone! Workers of the world unite!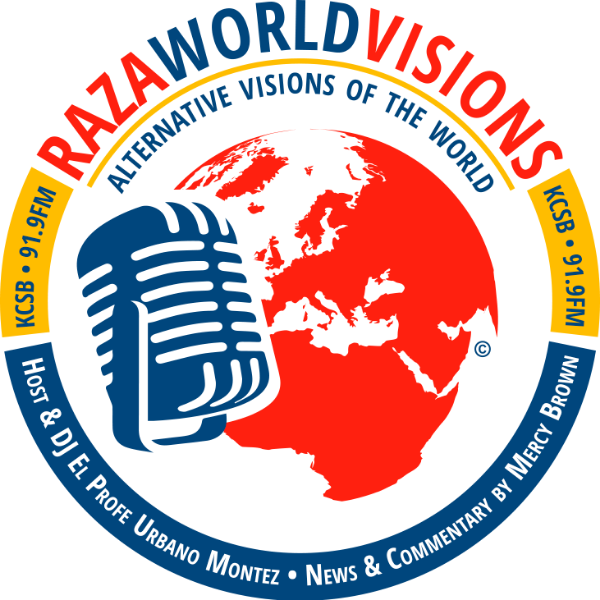 Music Show
Latinesca
HELP!!! Raza World Visions Hacked by Bandidos in Brownface...
Saturday, September 24, 2022
Raza World Visions radio show was hijacked by gabacha/os posing as Raza. While investigations are under way, we decided to preserve evidence of cultural appropriation, salient bigotries, and, well, cultural cross-dressing that ain't all bad. Suspects include The Flying Burrito Brothers, The Beaumonts, and Loco Gringos (you can take creative writing with their lead singer). The Hickoids complicate Latinesca music by responsibly exploring white privilege and complex positionalities (wish other mixed-race folks would do the same). Dwight Yoakum, Augie Mayers and His Valley Vatos, and Doug Sahm and Sir Douglass Quintet show you can be white and down with Raza in non-appropriative ways. The Texas Tornados model brilliant cultural fusions, with Beck and Herb Albert and the Tijuana Brass reminding us that music of all sorts and sources is art, which always has transcendent possibilities.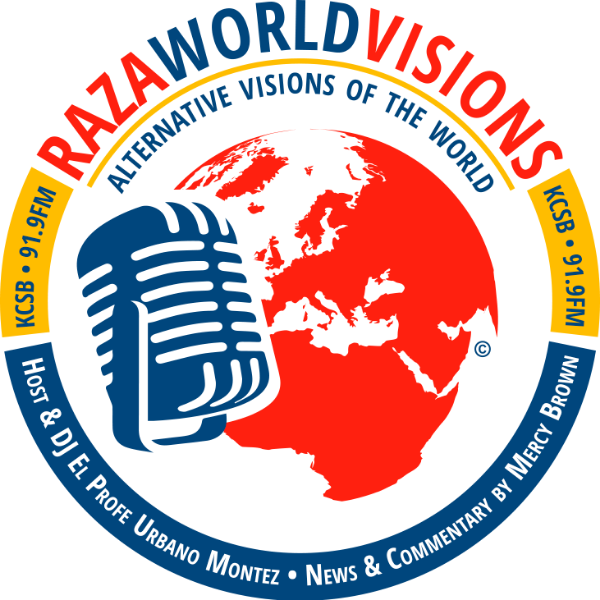 Music Show
Gangster Revolutionaries!
Raza Hip Hop Intellectuals Breaking It Down Metacrically Saturday, August 13, 2022
Saturday, August 13, 2022
Raza World Visions radio show jumps into the controversies of gangster rap with a fresh take on the revolutionary possibilities of lumpen barrio cholo and chola hip hop intellectuals. The show explores various iterations of the concept of gangster revolutionaries—from the contradictions to the possibilities. These oral bards present various syntheses of the material circumstances that we must understand as we simultaneously struggle to synthesize our own selves into new revolutionary beings. The show's hip hop homeboyz and homegurlz include Kid Frost, Capone, NSanity, Lighter Shade of Brown, La La Romero, Vel the Wonder, Xochiquetzal Kalpolteteo, Lady Pinks, Sir Dyno, Clika 1, and Lil Rob.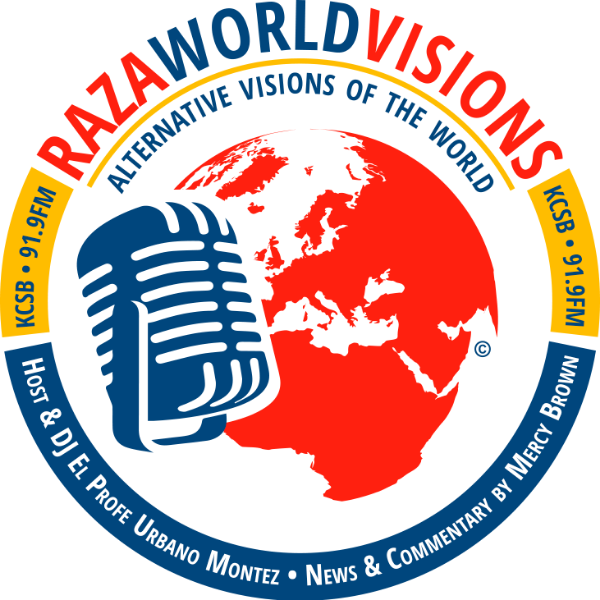 Music Show
Movimiento Music
La cultura en lucha contra el capitalism
Saturday, August 6, 2022
Raza World Visions radio show takes us back to our Movimiento roots con la música de nuestra lucha que sigue hoy en día. Conjunto Aztlán grounds us in the indigenous roots of El Movimiento with its opening ceremonia, and quickly jumps into conjunto nueva cancion. Los Alvarados, Joan Baez, y El Teatro Campesino take us through Movimiento classics. Jesus "Chuy" Negrete and Ramón Chunky Sánchez—both oral bards of La Onda Chicana—take us along for a ride of key moments and campaigns that together ground the movement in labor and land struggles. And we close with the Brown Sound crossover songs by Thee Midnighters and El Chicano that extend the movimiento far and wide.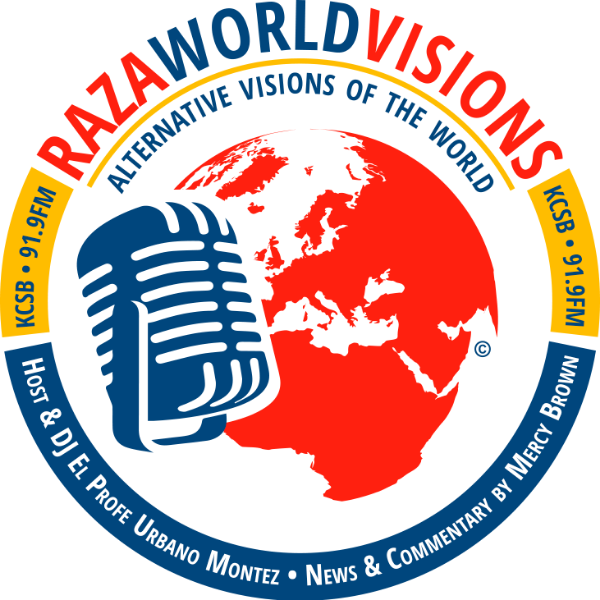 Music Show
Son Jarocho
Raza Folk Fusions on Fire!
Saturday, June 25, 2022
Raza World Visions radio show features Son Jarocho—music from the coastal state of Veracruz, Mexico that recovers the African roots of mestizaje refashioned for contemporary political struggles. This show gets back to our roots with Los Lobos and features lots and lots of Las Cafeteras, the East LA revolutionaries. And we can't get enough of Marisoul of Santa Cecilia! We also get back to Grammy award winning band but still grassroots Quetzal, along with neo-Son Jarocho fusion bands Los Cambalache and Making Movies.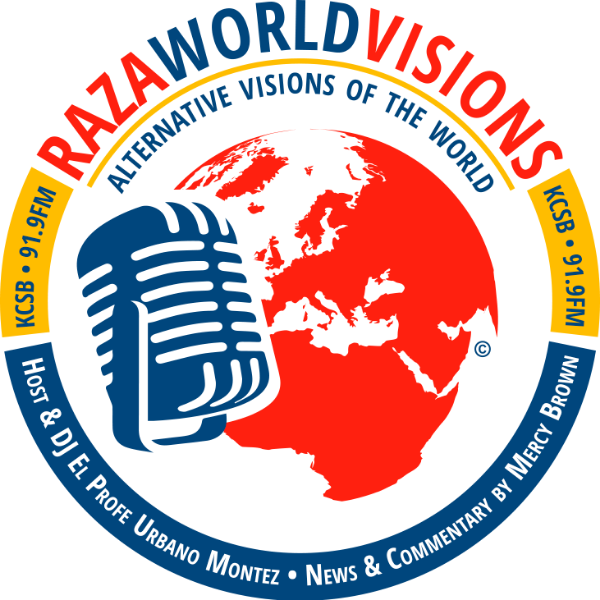 Music Show
Chola Rolas del Barrio
Watchate Raza 'cause they don't play
Saturday, June 4, 2022
Raza World Visions radio show features cholas, homegurlz, y repelioneras who break it down from the bottom up, raw and real, politically incorrect, and with no apologies. No fake overbaked essentialist academic discourse here. Tonight's show begins with underclass feminist self-love and self-help with working class madres nurturing hijas, hermanas supporting hermanas, and all raising hell. Starting us off is Vel the Wonder and LaLa Romero, then old school chola oldies refashioned as feminist anthems by Las Cafeteras, Trish Toledo, and Thee Lakesiders. JRoxxx and Bella take us into Raza hip hop, and notorious Miss lady Pinks as well as J.Me siguen con maldiciones y proclamaciones de Libertad. We close con Gata Mas Firme y Flakita, and the über-Cholas—Underground Maniatikas.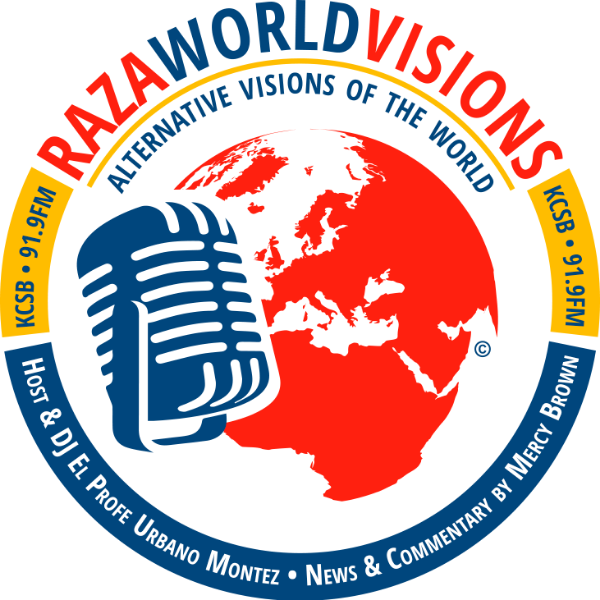 Music Show
Neo-Raza Alternative
Encuentros, re-encuentros & new syntheses
Saturday, May 28, 2022
Raza World Visions radio show has always been about exploring alternative visions of the world, and Raza spaces within… and beyond. Today's show explores Raza alternative music in all its variety and galactic trajectories. We start with the Chicano Bob Dylan—Sixto Rodriguez (aka Sugarman), the Raza Mod band The Krayolas, firme barrio balladeer Geree with El Chicano, and Brown Sound Legend Tierra. We also explore Barrio metal legend Helstar, the immortal rockers Rage Against the Machine, punk icon The Brat, and unexpected singing by Dave Navarro and very experimental Hope Sandoval. We close out with some conjunto Klezmerish ska punk fusions by the Paranoias and Los Nahuatlatos!